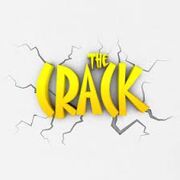 The
Crack
is an animation series made by
Element Animation
. Available on
YouTube
, the series consists of talking eggs named Dan, Jason and Chisi. Sometimes they have a creepy mustache egg in some episodes and other times they have guest stars to voice some of the eggs. There are also videos that Element Animaton made on their second channel called "Element Shorts" featuring The Crack.
How Not to be Bored
The End!
HACKED ACCOUNT
HACKED AGAIN
We Weren't Hacked
XCUBE ONE WITH ADDED KINOCT
THE PLANE
Special episodes
Edit
Behind the Scenes
Vlog #1
Vlog #2
MINI-MESSAGE
There Is Also A Delaited Episode Named YOLK
Characters
Edit
Main characters
Edit
Side characters
Edit
"Jason's Holiday" actually plays in the style of an interactive game, with Annotations acting as buttons, each leading to a network of (Unlisted) videos. These links do not work anymore.
The episode 'MINI-MESSAGE' is a promotional video for the 'The Crack!' T-shirts.